Posted by BS
July 11, 2008
Brett and I headed out at 7 a.m. this morning on a mission to snag him a new iPhone 3G. First we went to the AT&T store (where Brett successfully got his iPhone last year). Last year, he was #36 in line. This year, we were in the 50-60 person range. At about 7:20 a.m., an AT&T employee came out and told us they only had 40 iPhones, so we were out of luck. (I'll refrain from sharing my thoughts on Apple only supplying 40 phones on the rollout day!)
Then we went to the Apple store at West County Mall. The line there was about 160 people when we arrived at 7:45 a.m. We waited. I began my first efforts to Twitter on my iPhone (which I'm not upgrading due to my "everything-works-fine" hacked iPhone on T-Mobile.) Brett and I shared the phone, reading RSS feeds. I checked my email. The Apple store passed out water and coffee. I wished they had donuts.
One hour passed.
Two hours passed. The line slowed to a crawl as something obviously went wrong. We all guessed that the West Coast traffic was bringing the system down.

Three hours passed. I got antsy… and hungry. I started planning the letter I wanted to write Apple on how to better manage their activation process.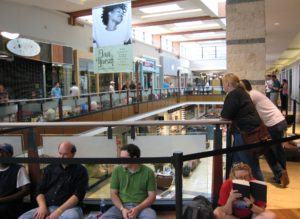 Four hours passed. I bailed out on the line and got Chick-Fil-A sandwiches for Brett and I. Yum. Then I left again to do a little shopping.
When I got back from my wanderings, Brett was could see the end of the line. I waited with him again.
Around noon, we were ushered in to the store. (At this time, they were taking 1 person at a time, and there were still about a 100 or 150 people behind us!)
They asked us questions for "elligibility."
Then we got into another line. I watched some people wandering around, lingering like they were waiting for something big to happen. A fashion-impaired woman walked aimlessly with a euphoric smile, a black phone headset hanging wistfully from her ear.
An Apple store rep took walked us over to a counter by the iMacs and asked questions about our status as an AT&T customer. Photo ID and social security number requested. Brett had to sign. She brought his new black 16GB iPhone G3 and swiped his card. Then, she put his new "machine" into pretty white iPhone bag.
Five hours passed… we were on our way out.
I am convinced I should win the "Tech-Geek Wife of the Year Award for 2008" for standing by my man for nearly 5 hours, literally!
And can someone tell me: why couldn't we have done the phone activation on the Internet prior to coming to pick up the phone? Wouldn't that have made the lines more more quickly?